CLICK HERE AND START TURNING THE OJB PAGES, USING THE ENABLE FULL SCREEN, ZOOM + AND - FUNCTION, AND THE ESC AS YOU TURN THE PAGES WITH YOUR MOUSE OR PRINT THEM OUT AS DESIRED "The Holy One, blessed be He, created the world by the 'Ma'amar'" (Mek., Beshallah, 10, cf Psalm 33:6) and Chayei Olam has appeared in the מתגשם ממרא MOSHIACH SO CLICK HERE TO BUY THE ORTHODOX JEWISH BIBLE E-BOOK FOR $4.95 OR FOR FREE SHIPPING IN THE U.S. GET THE 1,232 PAGE PAPERBACKYeshua not Mendel is Moshiach!
DOWNLOAD FREE THE ORTHODOX JEWISH BIBLE E-BOOK FOR YOUR FREE EBOOK READER DOWNLOADABLE HERE!AND ALSO STUDY THE ORTHODOX JEWISH BIBLE ONLINE OR DOWNLOAD THE ORTHODOX JEWISH BIBLE FOR YOUR MOBILE DEVICE

MAGGID (PREACHER)!!! WANT TO STUDY AT GLOBAL UNIVERSITY STUDY CENTER #990001739 AFI INSTITUTE?




OR BUY PAPERBACK FROM AMAZON.COM
TAKE 3 MIN, FIND OUT WHAT THIS WEBSITE IS ALL ABOUT
LISTEN TO THE ORTHODOX JEWISH BIBLE
(Google Chrome Browser recommended) meshichistyid.org Meshichist Yid
Download your free Bible and study with us free at our online Yeshiva
myOJBa
myOJBb
myOJBc
myOJBd
myOJBe
myOJBf
Qty: Price: $29.95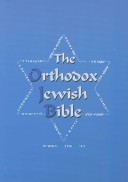 EMAIL DR GOBLE (CELL 646 460 5971) DO SEARCHES OF THIS VAST WEBSITE AS WELL AS CONCORDANCE-LIKE SEARCH QUERIES OF THE ORTHODOX JEWISH BIBLE USING YOUR GOOGLE OJB "STRONG'S CONCORDANCE"

Example: type below in the AFII Google Search Portal "HaAlmah"





.

(This message builds on the Genesis 3:15 Torah teaching, confirmed in Rabbinic exegesis, see

זרע זה מלך המשיח מדרש רבה כג ה

that Moshiach, through his sufferings, will win our victory over Satan.)



BEFORE YOU GO ANY FURTHER, BE LIKE NA'AMAN AND HEAD FOR THE MIKVEH AND GET REAL LEV TAHOR LEVERAGE AGAINST HASATAN IN THE NAME OF HASHEM (ATIK YOMIN) AND THE ZOON FOON DER OYBERSHTER (BAR ENOSH) AND THE RUACH HAKODESH ADONOI ECHAD AND BECOME A MESHICHIST YID. And you don't have to buy the paperback; you can download the searchable e-book version including this and read it on your computer screen free-of-charge (you can also download free-of-charge another book that you can use as a commentary to get you into the Biblical languages and also intensely into each book of the Bible). But if you decide you DO want the paperback which also includes this translation as well as the other 39 books of the Bible, THEN IF YOU DON'T WANT TO USE YOUR CREDIT CARD JUST SEND A CHECK OR MONEY ORDER PAYABLE TO AFII TO GET YOUR PAPERBACK COPY OF THE OJB

CHECK OUT ARTISTS FOR ISRAEL INTERNATIONAL MESSIANIC BIBLE SOCIETY HOME PAGE

IF YOU WOULD LIKE TO SEE THE TREE OF LIFE (ETZ CHAYIM), MAY WE FIRST SHOW YOU THE TREE OF DEATH?

HOW DO WE HAVE AN EXODUS FROM THIS "TREE OF THE KNOWLEDGE OF GOOD AND EVIL" AND WHAT DOES THIS HAVE TO DO WITH THE KAPAROS?

ARE YOU A FALSE PROPHET PROPHESYING IN THE FLESH

"I DIE DAILY"--WHAT DOES THAT MEAN, BECAUSE WE ARE SUPPOSED TO FOLLOW RAV SHAUL AS HE FOLLOWS MOSHIACH?



ARTISTS FOR ISRAEL INTERNATIONAL®



CUTTING SOUL-TIES

DARE TO LOOK AT THIS PAGE OF THE ZOHAR (WHAT THE ECSTASY-SEEKING HASIDIM ARE LOOKING FOR IS FOUND HERE) AND DECIDE WHICH ALL-IMPORTANT SIX WORDS YOU ARE GOING TO BELIEVE





HOW TO POINT TO MOSHIACH IN YOUR RABBI'S BIBLE

IF YOU HAVE HIGH SPEED ACCESS, TAKE A MOMENT TO LISTEN TO THIS MP3 FILE BECAUSE THERE IS SOMETHING ABOUT THE ORTHODOX JEWISH BIBLE OF VITAL IMPORTANCE TO YOU THAT THEY ARE NOT TELLING YOU

IF YOU DO NOT HAVE HIGH SPEED ACCESS, TAKE A MOMENT TO READ THE TRANSCRIPT OF THE ABOVE MP3 FILE, BECAUSE THERE IS SOMETHING ABOUT THE ORTHODOX JEWISH BIBLE OF VITAL IMPORTANCE TO YOU THAT THEY ARE NOT TELLING YOU



First let's get something clear about erroneous notions of Paul and his founding a new religion, which he didn't. True, the halakhah of his Judaism switched from the Pharisaic oral law to the Ruach Hakodesh, but his religion was still one of the Judaisms of the time, not a new non-Judaism Gentile religion.




Stop! Do you believe in the inerrancy of the Bible? In order for you to understand the rest of what is written here, you must understand the akedah. Akedah. Now let's talk about cutting soul-ties. The book of Revelation reminds us that we must be cleansed from a wiley heart of secret sin, for "blessed is the one who stays awake and is clothed, not going about naked and exposed to shame" (Rv 16:15). We're talking about cutting soul-ties. Easier said than done. We will talk about a soul-tie in a minute.

First look at this picture. It's a picture of you with a soul-tie. The picture is of you being held down deep underwater by large strands of kelp. Kelp are very large brown seaweed. The scene is somewhat murky, but clear enough. The water symbolizes the Realm of the Ruach Hakodesh, the kelp (which is growing from the bottom and from you) symbolizes the soul ties. Cutting these will allow you to bob back to the top so that the Ruach HaKodesh can once again freely direct you in the way He wants you to go. Of course, after being cut free, you may experience a sense of instability and disorientation, but also freedom. Where the Ruach Hakodesh is, there is freedom. But you will also experience a sense of loss and perhaps literal loss also.

For somehow you had, without fully realizing what was happening to you, been lured by a siren song into a dangerous ocean depth, and the seaweed did not at first present anything alarming to you. Certainly the bondage the seaweed represented did not appear that way at all. However, with each passing day, the brown seaweed silently wrapped its large strands around you, and eventually you began to see that the darkness had grown darker and the water had grown colder and the thought of swimming up to the surface had grown less urgent. Something about this thing was becoming dully comfortable and facinating and not very grievous to you. Bondage does have its deceptive (not real) pleasure.

But there was one thing you hadn't reckoned with, that the Ruach Hakodesh was being grieved all along. This is what you vaguely sensed but didn't want to deal with. The evil pleasure you didn't want to interrupt to deal with anything. But you were losing your way in the Holy Spirit. You couldn't bob up to the Holy Spirit and get your bearings. Because the Ruach Hakodesh was being grieved right along. And something horrific was starting to grow. Something horrific. Satan was using his craftiness to corrupt your pure devotion to Moshiach, as it says in 2Co 11:1-3.

Amnon did not see the horrific thing that was starting to grow in his life. It would cost him his life and would contribute to a civil war with the loss of many other lives in his father David's kingdom and in his father David's household. It started with a soul-tie.

In this case a soul-tie can be defined as a forbidden desire that grows out of you like large brown strands of seaweed in the dangerous murky depths of your sin nature. This forbidden desire coils around another soul in a forbidden relationship, forbidden, that is, by Scripture. In the case of Amnon, the Scripture we are referring to specifically is Lv 18:9,11 and 20:17 and Dt 27:22.

These are Scriptures meant to make us tremble. Beautiful Tamar was forbidden to Amnon. But a siren song was luring him into treacherous ocean depths where large brown seaweed could begin to grow from the bottom and from Amnon. He was captivated by her beauty. He was hardening his heart against the Scriptural warning. And when you harden your heart, G-d may also harden your heart, for it was the will of G-d to have Solomon come to the throne after David. And that could not come to pass unless Solomon's older brothers, Amnon and Absalom, were no longer around to threaten Solomon. So the Ruach Hakodesh was grieved with Amnon. We know that all things work together for good for those who love G-d, but we know that no such good is promised when we abandon the holy commandment so that we can pursue our lusts. And here we see the besetting sin and the generational curse: David's sinful desire for Bathsheba in one generation and Amnon's sinful desire for Tamar in the next generation.

You say, "Stop tape!" "Rewind the tape!" What can we learn from Amnon's mistake. How could he have cut this soul-tie with Tamar before it became fatal? How could he have turned back from the brink?

We have already said that breaking soul-ties is not easy. Remember that Amnon was obsessed with her beauty. He had an obsession. It was also a secret sin in the beginning. He was love-sick with a love-sickness that was so intense it made him ill. He must have told himself, "Listen, this is the REAL thing! Yes, if I listen to my heart, my heart tells me that this is the REAL thing." But of course it wasn't. It was a demonic deception. Satan was going around like a roaring lion seeing whom he could swallow down, and Amnon was lured like a hapless stupid fish into the dangerous murky depths of his sin nature by the bait of Tamar's beauty.

Suppose you were a minister and one day an attractive young lady requested a bit of counselling from you. So you, being a solicitous man of G-d, oblige. However, somewhere in the process, her beauty begins to dazzle you. Yet she has more and more questions and you, always wanting to oblige, continue providing more and more answers to those questions. It is just at this crucial point that you have a way of escape. What is it, pray tell? You simply find another counsellor and say, "My dear, really so-and-so has an INFINITELY deeper grasp of these matters and I am going to refer you and all your questions to HER (Ti 2:3-4) immediately. AND YOU CUT THE INCIPIENT SOUL-TIE AND FLEE FROM THE TEMPTATION.

Now what do we mean when we say "soul-tie"? It says, "The soul of Jonathan was knit with the soul of David, and Jonathan loved him as his own soul" (1 Samuel 18:1). What does the Bible say about "soul ties?" If a soul tie is destructive (as in the case of Amnon), if it distracts from the work G-d has called you to do, if it is idolatrous, if it is forbidden by Scripture, if it lures your attention off of your L-rd and Savior and grieves the Holy Spirit, if Satan is sifting you in his sieve with it, then let's get some deliverance. Let's get some deliverance ministry.

You say, Is that really necessary? Well let me ask you a question. Look at the woman at the well in Yn chapter 4. Was it important for her to cut soul ties in order to stay in step with Yeshua? There was unconfessed sin at the well. Fact: she did not have a husband. Yeshua had to gently pull this fact out of her. Apparently she had a soul-tie, maybe more than one. Being a prophet, Yeshua told her what was in her heart. The man in her heart was not her husband. The man she had now was not her husband. And she had had five others. Now let's go back to the picture we started with. It's a picture of you as the woman at the well with a soul-tie. The picture is of you being held down deep underwater by large strands of kelp. Kelp are very large brown seaweed. The scene is somewhat murky, but clear enough. The water symbolizes the Realm of the Ruach Hakodesh, the kelp (which is growing from the bottom and from you) symbolizes the soul ties. Cutting these will allow you to bob back to the top so that the Ruach HaKodesh can once again freely direct you in the way He wants you to go. Of course, after being cut free, you may experience a sense of instability and disorientation, but also freedom. Where the Ruach Hakodesh is, there is freedom. But you will also experience a sense of loss and perhaps literal loss also. The woman at the well had had six men in her life. Could she keep them in her heart and receive Yeshua there also? No, she couldn't stay in step with Yeshua and all those men. Until she cut those soul ties, she couldn't "bob back to the top" so that the Ruach Hakodesh could direct her. She couldn't lurk around those six houses and also knock on doors for Jesus. It might have been destabilizing and disorienting to walk past those six houses where those old soul ties resided, but she was also free. Now she could run and tell everybody she met that she knew the Moshiach Ben Dovid and they can know him too!

The Bible says to watch your life and your doctrine closely, so that you will save both yourselves and those who hear your preaching. In the last days, like dogs returning to their vomit, ministerial casanovas with eyes full of adultery will arise that creep into weak-willed women's homes and that bring them under soul-tie bondage. At Moshiach's Bet Din, these preachers will protest but will be thrown into the lake of fire.

Imagine you were a clerk in a home entertainment store-front where all the televisions and media devices on display were playing holy music and spiritually edifying DVD's. Then imagine that one day the Owner told you to make sure that no one changed the television channels to soap operas or unholy music. But the Owner stayed away a long time and while he was absent a tall, dark, and handsome stranger came into the store and changed one of the channels to a soap opera. At first you were irritated and changed the channel back to a holy station. But the stranger said, "Can you not think your own thoughts?" So after that, one by one, all the televisions in the store were subverted to soap operas. Then one day a prophet came to the store and warned you. You changed a few channels but didn't think much about it. Then a different prophet came and warned you. You paid no attention. Finally, you were given the last warning, and the next day you were fired and thrown out on the street. Your thought life is not your own. It has been redeemed by the blood of Moshiach. Make sure your thought life does not grieve the Ruach Hakodesh. "May the meditations of my heart be acceptable in Thy sight, O L-rd my Strength and my Redeemer." "If I regard iniquity in my heart, the L-rd will not hear me when I cry." Rebuke the thoughts that arise from the murky ocean floor of the sin nature. Resist devilish thoughts. Use your spiritual prayer language and songs of deliverance to drown out soul-tie bondage and wickedness. Bring every thought captive to obey Moshiach. Whatsoever things are noble, whatsoever things are pure, whatsoever things are lovely, whatsoever things are of good report, meditate on these things. Put on the whole armor of G-d. Hope in the L-rd all day long. Forgive and you shall be forgiven. Give and it shall be given unto you. The secret of the L-rd is with those who fear Him. Be holy for Moshiach is holy. Be not wise in your own eyes. Fear the L-rd and depart from evil.

There was once an abused girl who cut a soul-tie with an unsaved man, went off to the big city, became born again, went into the L-rd's work, was used greatly by G-d with a word of knowledge prophetic ministry, but then, right before a great victory, was tempted once again as the soul-tie with this unsaved man resurfaced in her life after many years. Had she not resisted Satan, had she not once again cut the old soul-tie, had she allowed that bondage back into her heart, then, instead of weeping with the repenting women in her meetings as the Holy Spirit revealed all their secret sins, the prophets would have come for her and, after a few warnings, her ministry would have come to an end. Such is the danger of soul ties. The positive side of all this is that this test came right before a great victory. Count it all joy when these things resurface because the test itself presages a promotion. And if Moshiach himself was driven by the Ruach Hakodesh out into the wilderness to be tempted by Satan BEFORE the victory of his ministry, should we imagine it will be any different with us? Therefore we rejoice in these things, because the L-rd is eyeing us for some kind of promotion in the spiritual realm if our faith passes the test after being tried in the fire.



But, listen carefully: do not join the hypocrites, who piously preach one way but think and live another way.

"What are you doing in the forbidden area of the apple orchard?" the woman was asked. "Oh...uh...just dusting off the L-rd's 'NO TRESPASSING' sign," she piously told her husband. "Then why do you have an apple picker's step ladder instead of a feather duster?" he asked before she became angry and abusive.

Keep yourself far from the ditches of besetting sin that you keep falling into. Keep yourself clean. Preach very hard to yourself first and repent. Then preach to others. THEN will I teach transgressors G-d's ways (Ps 51:13). Better people get angry at your uncompromising and convicting Biblical preaching AND GO TO HEAVEN ANGRY AT YOU than for them to think more highly of you than they ought, develop a soul-tie with you, and miss out with G-d. Emotional adulation belongs to Hashem, not to us. Moshiach doesn't want you to grow his Shul your way, Moshiach wants to grow his Kehillah HIS holy way. Ministers in the Bible are less like the handsome and glamorous television personalities we see in modern pulpits with their vast television cult of adulation and more like the scrubbed up, clean, lower Gastro-Intestinal doctor who is all business and seriousness as he does a colonoscopy and tries to get past the sewage products of the carnal flesh in order that he might save the patient's life, the patient for whom Moshiach died. (See 1Sm 2:22-25 which shows why a minister must not have an unclean philandering eye but rather the qualifications of 1Ti 3:2 and 1Ti 5:9 and Ti 1:6.) Do not upset the applecart as the L-rd sends people to your kehillah and some are only guests of a particular person who is coming and who, if offended, will exit and take all of the unsaved people with her, some of whom may never darken the door of a kehillah again. Now do you see why you need to have a prayer meeting each week and pray over your guest book so that each person has a chance to hear the plan of salvation?

Make sure you are not backslidden. When you study the book of Hebrews you see that in a persecuted Messianic Synagogue, there are some who are tempted to try to escape persecution brought on by preaching the Besuras HaGeulah to Jewish people. Also in a persecuted Messianic Synagogue there are some craving escape from the persecution pressure by the diversion of seeking carnal knowledge forbidden by Scripture; these same "Esaus" may also sell their heritage as rich fools who also love money's deceitful security. Likewise there are some in a persecuted Messianic Synagogue who are backsliders who want to drift back toward the dead mitzvos and deceitful (i.e., not real) Yiddishkait and pseudo-tranquility of a "Yushka" cursing pseudo-synagogue that denies the Living Moshiach with the Empty Tomb. Therefore if you look at Scriptures like MJ 3:12-13; 10:24-27; 12:1, 16; 13:4-5 you will see that all which is said here is particularly appropriate teaching for a Messianic Synagogue. Look here and here and here and here and here and here and here and here and here and here and here and here and here.

O if you would only be filled with the Holy Spirit, resist the devil, make no provision for the flesh, flee from youthful lusts, and learn of spiritual riches, so that in Moshiach you would become richer by far.



Money is very important to people, it seems.  But in the blink of an eye, billions were lost on the Stock Market the other day.  God tells us that His wisdom is supposed to be more valuable to us than ephemeral wealth (Ps 119:72), and as such His Word is to be more eagerly sought after (Prov 2:4)

Apparently the Jewish rich young ruler was very foolish, turning his gold into goyishe idolatry (Ps 135:15), but in the process forfeiting heaven, the Main Street of which is itself pure gold (see Rev 21:21).  So he foolishly chose a limited quantity of gold he could claim as his own only for a short lifetime, when in fact he could have had a whole  MAIN STREET of gold for all eternity, had he not been so foolish (Rev 21:21).

There was no gold, I remember, on the Main Street of my home town:  there was a tavern, there was a liquor store, there were a couple of pool room gambling dens and I remember a Masonic temple, all manifesting clearly on this non-heavenly Main Street a curse, which also is a sign not of Heaven but of Hell, and I am talking about a real Hell which you can read about in the Bible in Daniel 12:2 and Isaiah 66:24 and Mt 5:22 and Mt 5:29-30 and Mt 7:13 and Mt 7:23 and Mt 8:12 and Mt 8:29 and Mt 10:28 and Mt 13:42 and Mt 13:49-50 and Mt 18:6-9 and Mt 22:13 and Mt 23:33 and Mt 24:51 and Mt 25:30 and Mt 25:41 and Mt 25:46 and Mt 26:24 and Mk 1:24 and Mk 5:7 and Mk 9:43 and Mk 9:45 and Mk 9:47-48 and Lk 3:17 and Lk 4:34 and Lk 12:5 and Lk 13:3 and Lk 13:5 and Lk 16:23-25 and Lk 16:28 and Yn 3:16-18 and Yn 3:36 and Yn 5:28-29 and Yn 8:21, 24 and Ac 10:42 and Ac 17:31 and Ro 2:5 and Ro 2:8-9 and Ro 2:12 and Ro 6:23 and Ro 9:3,22 and 1Co 11:32 and 2Co 2:15-16 and 2Co 4:3 and Gal 1:8-9 and Gal 6:8 and Eph 5:6 and Phil 1:28 and Phil 3:19 and Col 3:6 and 1Th 1:10 and 1Th 5:3,9 and 2Th 1:8-9 and 2Th 2:10 and MJ 6:2 and MJ 9:27 and MJ 10:27,39 and Ya 4:12 and 2K 2:1,3,4,9,12,17 and 2K 3:7 and Yd 4,6,7,13 and Rv 2:11 and Rv 6:16-17 and Rv 11:18 and Rv 14:10-11 and Rv 14:19 and Rv 16:19 and Rv 17:8,11 and Rv 18:8,9,18 and Rv 19:3 and Rv 19:15 and Rv 19:20 and Rv 20:10, 14-15; and Rv 21:8 and Rv 22:15.



The rich young ruler should have made God his riches (Job 22:25).  He should have obtained his gold from Yeshua (Rev3:18), meaning true gold, speaking of the riches of His divine righteousness credited to our faith.  It's possible to be materially well off but morally and spiritually poor.  When we come to Yeshua with a sense of our own sin and foolhardy self- sufficiency, we can exchange our poverty and emptiness for His hidden treasure. But remember His gold is always "refined in the fire," meaning the moral purification we get in Him comes through discipline and testing.  We grow in purity only in the heat of temptations and trials, for gold has to be heated and refined until the impurities are burned out.  See Jer 9:7; Zech 13:9; Mal 3:3; 1 Cor 3:13 and 1Pet 1:7.  When tempted to "turn back" at any point, we must commit our past sins, our present need, and our entire future to Yeshua, knowing that impurities of character must be ferreted out and require unpleasant chastening, distasteful at the time, but yielding sweet fruit in season (see Hebrew 12:5-13).



Right now we are preparing the Yiddish New Testament page by pain-staking page.  Please pray for us, that we would use scanners and computers wisely, and also for souls, since we have seen some turning to the Lord, and also pray for the school opening January 28 and for the teachers and a revival.

READ THE ORTHODOX JEWISH BIBLE


READ IN A YIDDISH-ENGLISH INTERLINEAR

RETURN TO OUR MAIN HOME PAGE