CLICK ON THE BIG ORTHODOX JEWISH COVER AND START TURNING THE OJB PAGES, USING THE ENABLE FULL SCREEN, ZOOM + AND - FUNCTION, AND THE ESC AS YOU TURN THE PAGES WITH YOUR MOUSE OR PRINT THEM OUT AS DESIRED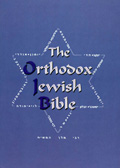 "The Holy One, blessed be He, created the world by the 'Ma'amar'" (Mek., Beshallah, 10, cf Psalm 33:6) and Chayei Olam has appeared in the מתגשם ממרא MOSHIACH SO CLICK HERE TO BUY THE ORTHODOX JEWISH BIBLE E-BOOK FOR $4.95 OR FOR FREE SHIPPING IN THE U.S. GET THE 1,232 PAGE PAPERBACKYeshua not Mendel is Moshiach!


OR BUY PAPERBACK FROM AMAZON.COM
TAKE 3 MIN, FIND OUT WHAT THIS WEBSITE IS ALL ABOUT
ORTHODOX JEWISH BIBLE
(Google Chrome Browser recommended) meshichistyid.org Meshichist Yid
Download your free Bible and study with us free at our online Yeshiva
myOJBa
myOJBb
myOJBc
myOJBd
myOJBe
myOJBf
Qty: Price: $29.95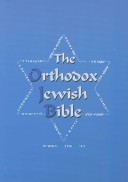 EMAIL DR GOBLE (CELL 646 460 5971) DO SEARCHES OF THIS VAST WEBSITE AS WELL AS CONCORDANCE-LIKE SEARCH QUERIES OF THE ORTHODOX JEWISH BIBLE USING YOUR GOOGLE OJB "STRONG'S CONCORDANCE"

Example: type below in the AFII Google Search Portal "HaAlmah"





.

(This message builds on the Genesis 3:15 Torah teaching, confirmed in Rabbinic exegesis, see

that Moshiach, through his sufferings, will win our victory over Satan.)



BEFORE YOU GO ANY FURTHER, BE LIKE NA'AMAN AND HEAD FOR THE MIKVEH AND GET REAL LEV TAHOR LEVERAGE AGAINST HASATAN IN THE NAME OF HASHEM (ATIK YOMIN) AND THE ZOON FOON DER OYBERSHTER (BAR ENOSH) AND THE RUACH HAKODESH ADONOI ECHAD AND BECOME A MESHICHIST YID. And you don't have to buy the paperback; you can download the searchable e-book version including this and read it on your computer screen free-of-charge (you can also download free-of-charge another book that you can use as a commentary to get you into the Biblical languages and also intensely into each book of the Bible). But if you decide you DO want the paperback which also includes this translation as well as the other 39 books of the Bible, THEN IF YOU DON'T WANT TO USE YOUR CREDIT CARD JUST SEND A CHECK OR MONEY ORDER PAYABLE TO AFII TO GET YOUR PAPERBACK COPY OF THE OJB

CHECK OUT ARTISTS FOR ISRAEL INTERNATIONAL MESSIANIC BIBLE SOCIETY HOME PAGE

LET'S COME TO TERMS WITH THE FAITH OF THE FIRST CENTURY

What is

Moshiach's

Shul

?

Moshiach's Shul is the Kallah (Bride) kept from darkness in the Beis Aviha (House of her Father) awaiting in ohr kodesh her true Choson (Bridegroom)

See verses 3-4 in chapter 5; and verses 5-32 in chapter 5.

Moshiach's Shul is the "Asher" Beis Yetomim ("Happy" Orphanage) where those once without hope and without G-d in the world receive the mishpat habechorah (right of the firstborn) in their Himel (Heaven) inheritance.
See verses 10-14 in chapter 1; verses 11-22 in chapter 2; verse 6 and verses 9-12 in chapter 3; 
Moshiach's Shul is the Beis HaMikdash under new Kohen l'El Elyon management where Israel at last permits every Benjamin among his youngest yeladim to come to their once unrecognized Incognito Moshi'a (Savior) (in Egypt and in Yeshayah 53:1-5 and also today in the Pesach middle matzah) [that is, when not discerning Moshiah Seh HaElohim--1C 11:29]
See verses 11-15 in 

chapter

 43; Psalm 110:4[5]; 

Bereshis

 14:18 verses 17-19 

in chapter 3. 
  Notice in the Torah, just as there is a famine of hearing the Word today 
  among the lost sheep of the House of Israel, so Israel is marked for 
  death by starvation until his youngest child is sent 

to Rachel?s other son, 
  whose supposed ?end? in death at the hand of his brothers (compare 

Genesis 42:22 to Mt 27:25) brings salvation 
  when he is at last recognized as Ish Adonei HaAretz (Genesis 42:33).

  Yosef Chai! (Genesis 45:26).  Therefore 
  see Mt 19:13-14. And
  on the spiritual nature of Moshiach's Shul and the spiritual warfare involved
  see Sefer Kodesh page 598
Sefer Kodesh page 599
Sefer Kodesh page 600
Sefer Kodesh page 601
Sefer Kodesh page 602
Sefer Kodesh page 603
Sefer Kodesh page 604
Sefer Kodesh page 605
Sefer Kodesh page 606
Sefer Kodesh page 607
Sefer Kodesh page 608
Sefer Kodesh page 609
Sefer Kodesh page 610
Sefer Kodesh page 611

See the ORTHODOX JEWISH BIBLE.
IF YOU HAVE 
HIGH SPEED ACCESS, TAKE A MOMENT TO LISTEN TO THIS MP3 FILE 
BECAUSE THERE IS SOMETHING ABOUT THE ORTHODOX JEWISH BIBLE OF 
VITAL IMPORTANCE TO YOU THAT THEY ARE NOT TELLING 
YOU









IF YOU DO NOT
HAVE HIGH SPEED ACCESS, TAKE A MOMENT TO READ THE TRANSCRIPT
OF THE ABOVE MP3 FILE, BECAUSE THERE IS SOMETHING ABOUT THE 
ORTHODOX JEWISH BIBLE OF VITAL IMPORTANCE TO YOU THAT THEY
ARE NOT TELLING YOU


---