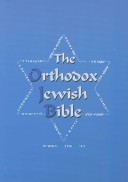 EMAIL DR GOBLE (CELL 646 460 5971) DO SEARCHES OF THIS VAST WEBSITE AS WELL AS CONCORDANCE-LIKE SEARCH QUERIES OF THE ORTHODOX JEWISH BIBLE USING YOUR GOOGLE OJB "STRONG'S CONCORDANCE"

Example: type below in the AFII Google Search Portal "HaAlmah"


.
(This message builds on the Genesis 3:15 Torah teaching, confirmed in Rabbinic exegesis, see
זרע זה מלך המשיח מדרש רבה כג ה
that Moshiach, through his sufferings, will win our victory over Satan.)
BEFORE YOU GO
ANY
FURTHER
, BE LIKE NA'AMAN AND
HEAD FOR THE
MIKVEH AND
GET REAL LEV TAHOR LEVERAGE
AGAINST HASATAN IN THE
NAME OF HASHEM (ATIK YOMIN) AND THE ZOON FOON DER OYBERSHTER (BAR ENOSH) AND THE RUACH
HAKODESH
ADONOI ECHAD
AND
BECOME A
MESHICHIST
YID
. And you don't have to buy the paperback; you
can download the searchable e-book version
including
this
and read it on your computer screen free-of-charge (you can also download free-of-charge another
book that you can use as a commentary
to get you into the Biblical languages and also intensely into each book of the Bible). But if you decide you DO want the paperback which also
includes this translation
as well as the other 39 books of the Bible, THEN IF YOU DON'T WANT TO USE YOUR CREDIT CARD
JUST SEND A CHECK OR MONEY ORDER PAYABLE TO AFII TO GET YOUR PAPERBACK COPY OF THE OJB
On Tuesday, September 1, 2009, the AFII Jewish Bibles arrived from the printer
and were offloaded from the truck and carted inside the building in Brooklyn. There they were prayed
over with many tears. These tears were from the Ruach Hakodesh because those who prayed knew the Scripture promise about sowing in tears and reaping in joy.

(There are hundreds of thousands of ultra-Orthodox Jews
in Rockland and Orange County and Westchester County and also in Brooklyn who have no copies of the
Orthodox Jewish Brit Chadasha
, either in
Yiddish
or English. And as it was later explained to Guyanese ministers in Brooklyn, this would be like the entire population of
Guyana having not one Bible! And this Scripture famine is in the United States, right here in the New York area!)


After the AFII Jewish Bibles were unloaded and prayed over, Phil and Linda Goble filled their vehicle with the Bibles
so that the entire vehicle was full and they were literally sitting chest high in Bibles.

Then, as the sun went down
and the over-burdened vehicle pulled creakily away from the building, Phil wondered what divine miracle would come on
this the twentieth day of his forty day fast (Aug 11-Sept 21). It was a mild night when Linda and Phil punched the electric window buttons and began tossing the Bibles on Jewish porches and sidewalks
as they quickly drove along from street to street and from Jewish neighborhood to Jewish neighborhood.
This went on all night long until their throwing arms were as sore as Yankee Pitcher Andy Pettitte's.

What they didn't know was that, while the Heavenly King was dealing with them, He was also dealing with a certain Yeshiva bocher, a particular Jewish man,
just as happened one day in the case of Ananias and
Saul of Tarsus
in Acts chapter 9.
For on this very Tuesday night September 1, 2009, the Heavenly King was dealing with this praying Jewish man who was on his face in his apartment
in prayer just as Linda and Phil were going through his Jewish neighborhood with Jewish Bibles flying out the windows of their vehicle, the car itself chugging along like a John Deere tractor pulling an
International Harvester Seed Sower.
Then the miracle happened. The next morning this Jewish man, got up and walked out of his apartment door,
Saul was waiting for a divine appointment.
As the Jewish man walked along he noticed all these books strewn on the sidewalk of his neighborhood. However, he did not pick one up. Then he turned and walked down a different street and soon saw
another copy lying there on the sidewalk. He opened it and noticed that there was a cell phone number on the
inside cover: 1 646 460 5971. Like the man who found the Pearl of Great Price, he went home immediately and
started to read the Bible. In a few hours Phil Goble was talking to him on his cell phone. This time it was not
Phil Goble but the Jewish man who was weeping. He wept and wept for a long time and then prayed to commit
his life to the King. Then he went to the website where this Bible he was reading is prominently featured
along with a video presentation from George O Wood.
When Phil Goble began
studying greek
and began translating the book of Acts from the Greek in August of 1971, he did not realize it
would take until September 1 of 2009 for a
"Saul of Tarsus"
among these ultra-Orthodox Jews to become the
"good ground" that Mark chapter 4 speaks about. But thanks to the Heavenly King who uses all his servants, for Galatians 6:9 came true on September 1, 2009. What does
it say? "Let us not grow weary in well-doing, for in due season we shall reap if we do not lose heart."