CLICK ON THE BIG ORTHODOX JEWISH COVER AND START TURNING THE OJB PAGES, USING THE ENABLE FULL SCREEN, ZOOM + AND - FUNCTION, AND THE ESC AS YOU TURN THE PAGES WITH YOUR MOUSE OR PRINT THEM OUT AS DESIRED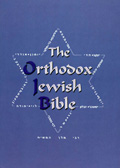 "The Holy One, blessed be He, created the world by the 'Ma'amar'" (Mek., Beshallah, 10, cf Psalm 33:6) and Chayei Olam has appeared in the מתגשם ממרא MOSHIACH SO CLICK HERE TO BUY THE ORTHODOX JEWISH BIBLE E-BOOK FOR $4.95 OR FOR FREE SHIPPING IN THE U.S. GET THE 1,232 PAGE PAPERBACKYeshua not Mendel is Moshiach!
DOWNLOAD FREE THE ORTHODOX JEWISH BIBLE E-BOOK FOR YOUR FREE EBOOK READER DOWNLOADABLE HERE!AND ALSO STUDY THE ORTHODOX JEWISH BIBLE ONLINE OR DOWNLOAD THE ORTHODOX JEWISH BIBLE FOR YOUR MOBILE DEVICE

MAGGID (PREACHER)!!! WANT TO STUDY AT GLOBAL UNIVERSITY STUDY CENTER #990001739 AFI INSTITUTE?

Read Dr. Phil Goble's blog

THE ORTHODOX JEWISH BIBLE MIGHT NEVER HAVE BEEN MASS-PRODUCED WITHOUT PAT ROBERTSON'S HELP SO WHY DO YOU SUPPRESS THE TRUTH ABOUT MIRACULOUS SIGNS WHEN "THE JEW REQUIRES A SIGN"? BUY THE FOURTH EDITION OF THE ORTHODOX JEWISH BIBLE FROM AMAZON.COM


OR BUY PAPERBACK FROM AMAZON.COM
TAKE 3 MIN, FIND OUT WHAT THIS WEBSITE IS ALL ABOUT
LISTEN TO THE ORTHODOX JEWISH BIBLE
(Google Chrome Browser recommended) meshichistyid.org Meshichist Yid
Download your free Bible and study with us free at our online Yeshiva
myOJBa
myOJBb
myOJBc
myOJBd
myOJBe
myOJBf
Qty: Price: $29.95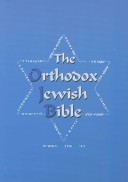 EMAIL DR GOBLE (CELL 646 460 5971) DO SEARCHES OF THIS VAST WEBSITE AS WELL AS CONCORDANCE-LIKE SEARCH QUERIES OF THE ORTHODOX JEWISH BIBLE USING YOUR GOOGLE OJB "STRONG'S CONCORDANCE"

Example: type below in the AFII Google Search Portal "HaAlmah"





.

(This message builds on the Genesis 3:15 Torah teaching, confirmed in Rabbinic exegesis, see

זרע זה מלך המשיח מדרש רבה כג ה

that Moshiach, through his sufferings, will win our victory over Satan.)



BEFORE YOU GO ANY FURTHER, BE LIKE NA'AMAN AND HEAD FOR THE MIKVEH AND GET REAL LEV TAHOR LEVERAGE AGAINST HASATAN IN THE NAME OF HASHEM (ATIK YOMIN) AND THE ZOON FOON DER OYBERSHTER (BAR ENOSH) AND THE RUACH HAKODESH ADONOI ECHAD AND BECOME A MESHICHIST YID. And you don't have to buy the paperback; you can download the searchable e-book version including this and read it on your computer screen free-of-charge (you can also download free-of-charge another book that you can use as a commentary to get you into the Biblical languages and also intensely into each book of the Bible). But if you decide you DO want the paperback which also includes this translation as well as the other 39 books of the Bible, THEN IF YOU DON'T WANT TO USE YOUR CREDIT CARD JUST SEND A CHECK OR MONEY ORDER PAYABLE TO AFII TO GET YOUR PAPERBACK COPY OF THE OJB

CHECK OUT THE HOME PAGE OF ARTISTS FOR ISRAEL INTERNATIONAL MESSIANIC BIBLE SOCIETY

McGavran, the Billy Graham advisor who was the keynote speaker at the historic 1974 Lausanne Conference, made the revolutionary decision to apply his priniciples to the endogamous Jews, who like the people groups he had studied in India, could not be reached by conventional methods. McGavran's break-through missiological insight holds great hope for reaching the vast Hasidic ultra-Orthodox Yiddish-speaking segment of the Jewish population.



When we consider the election of Israel we have this Hebrew word BEIS CHET RAYSH "bachar" which means "chosen," so we think of Israel as the "Chosen People." But now we need to think about that which was "nigzar merosh" ("determined from the beginning, foreordained, predestined, decided beforehand").

This is what is attested about the Besuras HaGeulah, the Good News of Redemption, which is Hashem's hidden Chochmah (Wisdom) before the days of eternity (see 1Co 2:7). When you look at Moshiach's Etz Chayim where we look with faith and are justified and find life and live, you see the predetermined wisdom of G-d which reveals how Hashem would justify sinners. This was not "after-thought" wisdom or impromptu wisdom but wisdom predetermined before the beginning of time. Foreglimpses of Moshiach's Etz Chayim are seen in places like Gen 2:9 and here in Num 21:8 and 2Sm 18:9 and Deut 27:26 combined with Deut 21:23. There is a remnant chosen by unmerited favor. Any mitzvoh done puts Hashem under no obligation, since Hashem did not save the Bnei Yisroel at the Red Sea by mitzvos but by unmerited favor. He freely chose to save them and no good deed of theirs impelled Him. The freely given gifts and irrevocable call of Hashem are Hashem's to give, not ours to deserve. Every gift given to us is unmerited by us. Every gift given to us is according to the unspeakable grace poured out on us. May we never sin against this grace or take such unmerited favor for granted. It is when you get to the doctrine of predestination that the grace of G-d shines brightest.

Look at Saul of Tarsus. Here we have Messiah's "Public Enemy Number One." How could Moshiach die to make kaparah for an enemy like this? How could Moshiach love an enemy like this? We know he looked at the Rich Young Ruler with love and extended a call to the Rich Young Ruler to follow him, but the Rich Young Ruler chose to go his own way instead. Such was also another Rich Young Ruler named Saul of Tarsus, who was intent on going his own way as well.

But Moshiach arrested him on the Damascus Road and brought him to the Street called Straight and poured out Hashem's grace and mercy upon him.

Such was the "Rich Young Ruler" named "Saul of Tarsus." But what about the other Rich Young Ruler? We don't see the doctrine of Reprobation as it is often taught when we look at the Rich Young Ruler, because Moshiach looked on him WITH LOVE ALSO--is the doctrine of Reprobation a doctrine of love? Compare Act 9 and Mk 10:21.

But we do see very clearly the doctrine of Election when we look at Saul of Tarsus, because Moshiach says to us (and this statement would surely apply to any "persecuting Saul of Tarsus" today who would attempt to make havoc of Moshiach's Kehillah), "You did not choose me, but I chose you" (Yn 15:16). What a gracious election! Moshiach looked with love at both of them and one walked away from that love but the other was arrested by that love! And today also there is a remnant chosen by grace.

Let me relate this doctrine to Dr. Donald McGavran. I also want to say a word about the name "Goble." One's earthly destiny can also be inscribed in one's name. So "Nabal" means "fool" and like many other fools today, Abigail's husband refused to serve the coming King (I Sam. 25:2- 13). Or take my name. I was destined to preach in England every year as a short-term foreign emissary of Moshiach's shlichus, being sent by an organization called Artists For Israel International (founded 1980).

You say, what has that got to do with the name "Goble"?

Let me tell you. Four hundred years ago, when Shakespeare was in his heyday, a man named Thomas Goble was born in Sussex, England. This is an English name, "Goble," an Anglo-Saxon name, not a German name, and the name comes from this British ancestor who came to America in the 17th Century. The name of Goble is believed to have been a variant on the ancient Anglo-Saxon personal name of G-dbold. Records of the English family of G-dbold show that it is from here that the American family of Goble is descended. All of the Gobles below in America are descended from the before-mentioned British lines.

The first of the family in America was Thomas Goble, who settled at Charlestown, Massachusetts (now Boston), in 1634 and immediately joined a congregation there, but later removed to Concord, in the same colony, the Massachusetts Bay Colony (founded by the English Puritan Winthrop) where a preacher's college named Harvard was founded a couple of years later. Thomas Goble by his wife Alice was the father of six children, one of whom was Daniel. His son Daniel also had a son named Daniel, whose son Jonas died in Morristown, New Jersy in 1791. Jonas' son Henry Goble, who served in the Revolutionary War, had children by his wife Lydia, one of whom was Benoni. Benoni, son of Henry Goble of New Jersey, finally settled in Indiana.

This is where we eventually get to Oakland City, Indiana, where I grew up. But the Finger of Predestination was moving now in Indiana with Benoni. Benoni married a woman named Sarah and their son Stephen had a son named James, born in 1849. James married my great-grandmother Amanda Baker Goble, whose son Nicholas Steven Goble is my grandfather and his son Earl is my father.

Thus, you see, I am a direct descendent of a British man named Thomas who was born in 1599. Although not greatly distinguished in public affairs, the Gobles have been, for the most part, believers in the Word of G-d, and there have been a good many ministers in the family. Although Henry Goble served in the Revolutionary War, what is important about this history to me is that most, if not all, of these men were g-dly and served in the L-rd's army of the faithful, from Thomas Goble in a congregation in Charlestown, Massachusetts, to my grandfather Nicholas Goble in a congregation (affiliated through the same fellowship of congregations with Donald McGavran's ministry) on Reel Ave in Vincennes, Indiana. Their names were written in the Lamb's Book of Life.

Not only that, but think about Dr. Donald McGavran. He was an advisor to Billy Graham and the pioneer of the modern movement specializing in the growth of congregations throughout the world. Donald McGavran was also the founder of a scholarly research center and graduate school that became part of a graduate school in Pasadena California, where McGavran, my teacher and the advisor behind all my books on Jewish and Muslim outreach, taught. [Woe is me if I squander the investment made in my ministry by Dr. Donald Anderson McGavran. Believe me, when he personally read and corrected the manuscript of EVERYTHING YOU NEED TO GROW A MESSIANIC SYNAGOGUE, he had other things he might have been doing with his time. That year (1974) he was on the phone with Billy Graham arranging to be the Key Note Speaker of the historic Lausanne Conference.] He also encouraged me to start a school in New York City, which we have done.

Now here is the connection I want to show in order to illustrate the gracious providential hand of G-d's election and predestination. Dr. Donald McGavran was associated as a foreign emissary of Moshiach with the fellowship of congregations whose members included my grandfather Nicholas Goble, which was how, in the centuries' long sweep of the providence of our merciful and gracious G-d, I became his student and began my ministry when the L-rd called me to the ministry in 1971. I had wanted to go to Pasadena, California, when I was 18 years old to study at the Pasadena Playhouse. But Donald McGavran was not ready for me there at that time in Pasadena and I was not ready for him. The Finger of Predestination was timing everything perfectly and not according to my timetable. But as I look back on it, I can see that our gracious G-d had his eye of destiny on us, my teacher Donald McGavran and me his student, when Thomas Goble was born in England around the time Shakespeare was writing his plays. For, the Puritans sought to escape a despotic king of England (Charles I) and to found a "wilderness Zion" in America, and Thomas Goble was in that stream of history, and Donald McGavran wanted to reach unreached peoples like Jews and Muslims and bring them to "Zion."

But the G-d who calls us is looking over the centuries like a Gardener looking over rows of flowers, and so from Thomas Goble to Donald McGavran, whatever good thing springs up in the course of his Divine Election is the L-rd's planting. As I can see from my vista, we individuals have a very small part to play, for it is G-d who is doing the awesome things. Whenever I get discouraged in Jewish or Muslim or any other ministry I'm involved in, I think of G-d's eye on Donald McGavran even as Thomas Goble was getting on that ancient ship to sail for America, and I get encouraged. If G-d can aim from Thomas Goble to Donald McGavran and make his arrow of election hit the target in my life in 1971 when I was raised from spiritual death and regenerated, and if G-d can raise the nation of Israel from her national tomb in the Diaspora in 1948, then surely we can see his hand and rejoice in what G-d is doing in your life and in my life and in the larger arena of world history down through the centuries.

G-d works all things together for good for those who love G-d who are called according to his purpose. When my father Earl had a nervous breakdown in 1965, my mother eventually sold our house in Oakland City, Indiana, and brought him out to Beverly Hills, California, where I was working as a professional actor and a member of Screen Actors Guild. When my mother began looking for a good congregation, she naturally looked for one like the congregation she had attended with my grandfather on Reel Avenue in Vincennes, Indiana. When she found a preacher named Myron Taylor in the same fellowship of congregations that included my grandfather Nicholas Goble's congregational affiliation and also Dr. McGavran's congregational affiliation, it was just a simple phone call from Myron Taylor that linked me up, now a newly regenerated believer with a call to preach, to Dr. Donald McGavran's office.

And, since as a young man in India Donald McGavran saw the social difficulty of planting congregations that included both the high caste and the untouchables, so Dr McGavran saw immediately the challenge of congregation planting for endogamous Hasidic Jews. So right there in Pasadena, California sat Dr. McGavran, ready in the plan of G-d to mentor me and edit my books. There was a purpose in G-d's election (see Ro 9:11).

So to whom much is given, much is required. The doctrine of predestination is not a doctrine about arbitrary fatalism. It is a doctrine about the grace and mercy of G-d which silences all human boasting. Paul could not espouse a view of Pelagianism or Pharisaism and point disparagingly at the Rich Young Ruler and say proudly of himself, "Well the difference between me and the Rich Young Ruler is that I was smart enough to make a decision for Moshiach." No, knocked off his high horse and struck blind with a temporary judgment miracle, Paul was led from the Damascus Road to the Street called Straight to get straight with Hashem in teshuva. And who has resisted His Will? So we are under grace, prevenient grace, before any response of ours comes into play. We did not choose Him but He chose us. Every day we should ask His forgiveness for being such an unworthy servant in the face of this unspeakable grace called predestination.

IF YOU WOULD LIKE TO SEE THE TREE OF LIFE (ETZ CHAYIM), MAY WE FIRST SHOW YOU THE TREE OF DEATH?

HOW DO WE HAVE AN EXODUS FROM THIS "TREE OF THE KNOWLEDGE OF GOOD AND EVIL" AND WHAT DOES THIS HAVE TO DO WITH THE KAPAROS?

ARTISTS FOR ISRAEL INTERNATIONAL®

ARE YOU A FALSE PROPHET PROPHESYING IN THE FLESH

"I DIE DAILY"--WHAT DOES THAT MEAN, BECAUSE WE ARE SUPPOSED TO FOLLOW RAV SHAUL AS HE FOLLOWS MOSHIACH?

HOW TO POINT TO MOSHIACH IN YOUR RABBI'S BIBLE

IS THE NEW TESTAMENT TRUSTWORTHY?

MESSIANIC TEACHING FROM A STUDENT OF DR. DONALD MCGAVRAN FROM THIS HIGH TRAFFIC WEBSITE



DOWNLOAD FREE THE ENTIRE ORTHODOX JEWISH BIBLE EXACTLY AS IT IS AVAILABLE FROM AMAZON OR BARNES AND NOBLE IN A SEARCHABLE PDF FILE HERE OR HERE

DONALD MCGAVRAN ADVOCATED FOR JEWISH EVANGELISM THE FOUNDING OF "UNDER GRACE" BORN AGAIN MESSIANIC SYNAGOGUES BUT WAS PAUL TORAH OBSERVANT? AND IS MOSHIACH'S SEFER TRUSTWORTHY?