OR BUY PAPERBACK FROM AMAZON.COM
TAKE 3 MIN, FIND OUT WHAT THIS WEBSITE IS ALL ABOUT
ORTHODOX JEWISH BIBLE
(Google Chrome Browser recommended) meshichistyid.org Meshichist Yid
Download your free Bible and study with us free at our online Yeshiva
myOJBa
myOJBb
myOJBc
myOJBd
myOJBe
myOJBf
Qty: Price: $29.95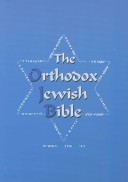 EMAIL DR GOBLE (CELL 646 460 5971) DO SEARCHES OF THIS VAST WEBSITE AS WELL AS CONCORDANCE-LIKE SEARCH QUERIES OF THE ORTHODOX JEWISH BIBLE USING YOUR GOOGLE OJB "STRONG'S CONCORDANCE"

Example: type below in the AFII Google Search Portal "HaAlmah"


.
(This message builds on the Genesis 3:15 Torah teaching, confirmed in Rabbinic exegesis, see
זרע זה מלך המשיח מדרש רבה כג ה
that Moshiach, through his sufferings, will win our victory over Satan.)
BEFORE YOU GO
ANY
FURTHER
, BE LIKE NA'AMAN AND
HEAD FOR THE
MIKVEH AND
GET REAL LEV TAHOR LEVERAGE
AGAINST HASATAN IN THE
NAME OF HASHEM (ATIK YOMIN) AND THE ZOON FOON DER OYBERSHTER (BAR ENOSH) AND THE RUACH
HAKODESH
ADONOI ECHAD
AND
BECOME A
MESHICHIST
YID
. And you don't have to buy the paperback; you
can download the searchable e-book version
including
this
and read it on your computer screen free-of-charge (you can also download free-of-charge another
book that you can use as a commentary
to get you into the Biblical languages and also intensely into each book of the Bible). But if you decide you DO want the paperback which also
includes this translation
as well as the other 39 books of the Bible, THEN IF YOU DON'T WANT TO USE YOUR CREDIT CARD
JUST SEND A CHECK OR MONEY ORDER PAYABLE TO AFII TO GET YOUR PAPERBACK COPY OF THE OJB
CHECK OUT THE HOME PAGE OF ARTISTS FOR ISRAEL INTERNATIONAL MESSIANIC BIBLE SOCIETY
Phillip Goble
Translator of The Orthodox Jewish Bible
LET'S COME TO TERMS WITH THE FAITH
OF THE FIRST CENTURY
STOP EVERYTHING AND LOOK AT THIS NUMBER #1 GOOGLE RATED MESSIANIC VIDEO



Born in Princeton, Indiana, May 2, 1943

1. Parentage and Early Life. In a transitory and cult false prophet world, Earl Goble could trace his ancestry back eleven generations to England, working for Public Service Electric Company as a lineman. He and his wife Iva and their firstborn Nicholas were able to rent a house on Trussler Street in Oakland City, Indiana, before buying one on Madison Street, where Phillip, or Phil, as he was called, grew up. From the age of nine Phil became determined to study acting and find fulfillment as an artist.
2. Early Adulthood. After graduating high school, Phil traveled one hundred miles to Bloomington, Indiana, where he began studies as a Drama major at Indiana University. He finished both the Bachelor's and Master's degrees and then made his way to Hollywood, California, where shortly thereafter his professional acting career began before the camera and on stage. However, one fateful day, on Hollywood Blvd, in the Readmore Bookstore, he happened to open the newly published New English Bible and began to read the Scriptures for the first time. Deeply stirred, it was just a matter of a few weeks before he was a graduate student again, this time enrolled in seminary in Pasadena, California. It was 1971 and he knew there was a holy call on his life and he had to answer it.
3. Preparation for Service (two miraculous motel rooms and two supernatural car rides). As soon as he began seminary, when he was not in the classroom or the library, he found himself preaching two or three times every week in the open air in the little village of Westwood, a couple of blocks from the University of California at Los Angeles. Most of his audience consisted of Jewish UCLA students, who would stop to inquire or debate. It was at this time that he began very slowly and painstakingly translating into English part of the Bible (not realizing he was embarking on a thirty year project, THE ORTHODOX JEWISH BIBLE!). And now also he was studying books on Orthodox Judaism. For example, the first book he found in a Jewish bookstore in the Fairfax area of Los Angeles became very precious to him. It was called, The Vocabulary of Jewish Life, and had been published by the Hebrew Publishing Company in New York City. During this time he was filled with the Ruach Hakodesh and many miracles began to happen. One day in 1973 he took a tape recorder and several suitcases of books and checked into a motel, where, for a long time, a kind of stream-of-consciousness inspiration was on him, and he dictated into the tape recorder his first book, EVERYTHING YOU NEED TO GROW A MESSIANIC SYNAGOGUE, which was immediately published in 1974 and many thousands of copies were being read by believers as well as Messianic Jews all over the world, who were multiplying exponentially during the last seven years, since the Six Day War (see Lk 21:24,29-31).

One of the miracles that happened at this time was a vision regarding messianic synagogues in Florida. Today there are more messianic synagogues in Florida than in most places in the world. But then, in 1975, there were none.
But no sooner did Phil arrive in Miami Beach to start planting messianic synagogues than he had a supernatural experience walking along the Atlantic Ocean. The Ruach Hakodesh impressed on Phil to speak to a man who was standing about twenty feet out in the water, submerged in the ocean water up to his neck. This seemed like a strange request, but a short time later Phil found himself riding around Hasidic Brooklyn in this man's 1975 black Cadillac, being given a tour of a vast and wonderful world of Yiddishkait. The man himself, it turned out, was a Jewish media personality and celebrity in New York City, who knew all the Hasidic and Orthodox Jewish Who's Who in New York and Israel and was also G-d's instrument to inspire Phil for ministry in New York City, even indirectly giving him the idea of writing a play that would present Rav Sha'ul (the Apostle Paul) as a theatrical stage character--the historical chasid of all chasidim that he was. However, when his brief tour of Hasidic Brooklyn was completed, no sooner did Phil get out to Laguardia Airport to fly back to Miami Beach, when something even stranger happened, and Phil was infused with a great spiritual burden of sadness and sorrow than can only be grasped by those given a heart to fathom Romans 9:1-3. What happened was this. At Laguardia airport a Messianic Jewish leader met Phil and they had an encounter with G-d there in the airport. Weeping copiously, the Messianic Jewish leader told Phil about a vision he had had of an Inferno in Brooklyn. It was like a terrible nightmare, a dream. In the vision, with no one seemingly noticing or caring, the Hasidic neighborhoods of Brooklyn were on fire. The Messianic Jew described it like whole Jewish cities on fire but no one stopping to look, no one bothering to call the Fire Department, no one even upset about the flames engulfing the Hasidic neighborhoods of Brooklyn. After a long time of weeping, Phil got on the plane, shattered, weighed down now with a great Isaiah 66:24 burden * that had been suddenly imparted to him and would be with him for the rest of his life. It would be 31 years later when, in conjunction with several other Evangelical ministries, 79,000 DVD's would be mass-mailed to these neighborhoods in Brooklyn as G-d showed Himself faithful to this 1975 prophetic burden, sovereignly bringing it to pass on Phil's 63rd birthday.

[Would YOU like to be a part of this decades-long supernatural adventure?]

However, when Phil flew back from LaGuardia to Miami Beach to continue planting messianic synagogues, it did seem like ages since he had met the man out in the water of the Atlantic Ocean; yet it had only been a couple of days, but very fateful days indeed in 1975, as would be obvious 31 years later in the summer of 2006 when 79,000 DVD's would be mailed to these very neighborhoods.
But resuming the chronicle in Miami Beach of pioneer messianic synagogue planting, we come to 1978. On Labor Day weekend, 1978, with three messianic synagogues established in Florida, but with great depression and totally penniless, all seemed hopeless. On that Monday night, September 4, 1978, walking on I-95, with only 23 cents in his pocket, no wallet, no home, no place to sleep, no place to go, a car suddenly stopped. This car also took Phil for a supernatural ride, like the 1975 black Cadillac in Hasidic Brooklyn. This car brought Phil to a motel, The Wishing Well Motel, in Boynton Beach, Florida, where a free room from the L-rd was waiting for him along with a spiritual experience that would set his course for the next two decades. It seemed all his prayers were being answered when he left the motel with the L-rd's business card, which read, "Your wish will come true at the Wishing Well Motel." In rapid fashion the L-rd thereafter supplied what His business card had promised: many theatres all over America, Canada, and Israel, as well as a professional broadway director, the play's publisher (Tyndale House Publishers, Wheaton, Illinois, the same prestigious publisher that released the book version of Mel Gibson's epic film about Yeshua), the screenplay, the production company, the distributor, the film crew, the film director, and THE RABBI FROM TARSUS (Word, Inc, Waco, Texas became the producer of the VHS Home Video) was seen by hundreds of thousands of people, including new productions by professional actors in Australia, South Africa and all over the world.
4. The Idea Unfolds. While all of these performances were being prepared or taking place, a steady stream of books were being written: EVERYTHING YOU NEED TO GROW A MESSIANIC YESHIVA, HOW TO POINT TO MOSHIACH IN YOUR RABBI'S BIBLE, and others. A study of the Babylonian Talmud, the Jerusalem Talmud, and the Shulchan Arukh brought clarity to the idea that there was a need for a new translation of the Bible into English as well as a new Yiddish translation for "Shulchan Arukh" Orthodox and Hasidic Jews. For the purpose of accomplishing these things, a new not-for-profit organization, a Bible School and also a Bible Society, was founded in New York City called ARTISTS FOR ISRAEL INTERNATIONAL, with its raison d'etre to promote Biblical Judaism through the use of the arts and all kinds of media.
Chronology and partial Bibliography

1943

Born in Princeton, Indiana

1961

Enrolled at Indiana University

1971

Began translating what became THE ORTHODOX JEWISH BIBLE

1974

Publication of Everything You Need To Grow A Messianic Synagogue, Pasadena, California

1975

Doctoral dissertation finished, entitled, Messianic Judaism: A Biblical Apologetic with a View to Liturgical Reform

1975

Periodical article (missiology) published, "Reaching Jews through Messianic Synagogues"

1981

Publication of Rabbi From Tarsus, Tyndale House Publishers, Wheaton, Illinois and also publication of Everything You Need To Grow A Messianic Yeshiva, Pasadena, California

1986

Publication of How To Point To Moshiach In Your Rabbi's Bible; Film of Rabbi From Tarsus completed

1989

Publication of The New Creation Book For Muslims

1992

Publication of The Complete Book For Artists For Israel

1996

Publication of The Orthodox Jewish Brit Chadasha

2002

Publication of The Orthodox Jewish Bible

2003

Publication of the 3rd Edition of The Orthodox Jewish Bible

2009

Publication of HaDerech HaMeshichist Yid
* footnote: "neither shall their eish (fire) be quenched and they shall be dera'on" [Daniel 12:2 says dera'on olam, inferring Everlasting Gehinnom].



ARE YOU AN ANTI-MOSHIACH ACTIVIST? NO WONDER YOU ARE DEPRESSED!!!



IF YOU HAVE HIGH SPEED ACCESS, TAKE A MOMENT TO LISTEN TO THIS MP3 FILE BECAUSE THERE IS SOMETHING ABOUT THE ORTHODOX JEWISH BIBLE OF VITAL IMPORTANCE TO YOU THAT THEY ARE NOT TELLING YOU

IF YOU DO NOT HAVE HIGH SPEED ACCESS, TAKE A MOMENT TO READ THE TRANSCRIPT OF THE ABOVE MP3 FILE, BECAUSE THERE IS SOMETHING ABOUT THE ORTHODOX JEWISH BIBLE OF VITAL IMPORTANCE TO YOU THAT THEY ARE NOT TELLING YOU