OR BUY PAPERBACK FROM AMAZON.COM
TAKE 3 MIN, FIND OUT WHAT THIS WEBSITE IS ALL ABOUT
ORTHODOX JEWISH BIBLE
(Google Chrome Browser recommended) meshichistyid.org Meshichist Yid
Download your free Bible and study with us free at our online Yeshiva
myOJBa
myOJBb
myOJBc
myOJBd
myOJBe
myOJBf
Qty: Price: $29.95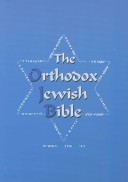 EMAIL DR GOBLE (CELL 646 460 5971) DO SEARCHES OF THIS VAST WEBSITE AS WELL AS CONCORDANCE-LIKE SEARCH QUERIES OF THE ORTHODOX JEWISH BIBLE USING YOUR GOOGLE OJB "STRONG'S CONCORDANCE"

Example: type below in the AFII Google Search Portal "HaAlmah"





.

(This message builds on the Genesis 3:15 Torah teaching, confirmed in Rabbinic exegesis, see

that Moshiach, through his sufferings, will win our victory over Satan.)



BEFORE YOU GO ANY FURTHER, BE LIKE NA'AMAN AND HEAD FOR THE MIKVEH AND GET REAL LEV TAHOR LEVERAGE AGAINST HASATAN IN THE NAME OF HASHEM (ATIK YOMIN) AND THE ZOON FOON DER OYBERSHTER (BAR ENOSH) AND THE RUACH HAKODESH ADONOI ECHAD AND BECOME A MESHICHIST YID. And you don't have to buy the paperback; you can download the searchable e-book version including this and read it on your computer screen free-of-charge (you can also download free-of-charge another book that you can use as a commentary to get you into the Biblical languages and also intensely into each book of the Bible). But if you decide you DO want the paperback which also includes this translation as well as the other 39 books of the Bible, THEN IF YOU DON'T WANT TO USE YOUR CREDIT CARD JUST SEND A CHECK OR MONEY ORDER PAYABLE TO AFII TO GET YOUR PAPERBACK COPY OF THE OJB

CHECK OUT ARTISTS FOR ISRAEL INTERNATIONAL MESSIANIC BIBLE SOCIETY HOME PAGE

ARTISTS FOR ISRAEL INTERNATIONAL®

LET'S COME TO TERMS WITH THE FAITH OF THE FIRST CENTURY

STOP EVERYTHING AND LOOK AT THIS NUMBER #1 GOOGLE RATED MESSIANIC VIDEO



Let's you and I talk about children.

Jewish children, really the

Bechorim

, the firstborn Jewish children in each family, were originally set aside to have a privilege which fell to the Levites (Numbers 3:12-13).

The

Kohenim

came of certain families of the tribe of Levi, and the remaining families of the tribe did the service of the Tabernacle (

Mishkan

) and the Temple (

Beis

Hamikdash

).

The

Mishkan

was a sort of traveling temple, until the Jewish people were settled in Israel.

Now I can get to my point about children.

Think of what a great inheritance befalls the Jewish child.

To them belongs

das

rekht

fun kinder ("the right of the child," Yiddish; "

Ma'amad

HaBanim

," "standing or status as sons"; Hebrew), and the

Kavod

(the Glory, the

Shechinah

),

the

Beritot

(Covenants), the

Matan

Torah (Giving of the Torah,

Yn

1:17; and Ex 31:18), and the

Avodas

HaKodesh

(the Worship),

and the

Havtachot

(Promises), and the

Avot

(Patriarchs), and of them would come

Moshiach

.

Where am I getting this?

Ro 9:4-5.

When Rav Sha'ul was writing Ephesians he was thinking about children and their inheritance in the L-rd. Apparently he had been meditating on Psalm 118:22 which relates the Moshiach to the Beis Hamikdash (compare Psalm 118:22 to Psalm 89:38[39]). Sha'ul knew that the Brit Chadasha Kehillah is the Guf HaMoshiach, the Body of Messiah, because when he persecuted it (the Body of Believers), the Risen Moshiach asked him on the Damascus Road, "Why are you persecuting me?" At this point, Sha'ul had his new birth, and in the Holy Spirit became a child of G-d, was given spiritual eyes to see, and then understood Hosea 6:2, that by being born from above, he was raised up with Moshiach in the heavenly realms (Eph 1:3), as all true believers are, since the new birth is a kind of spiritual "Third Day" resurrection (Hosea 6:2) pulling us up spiritually to where Moshiach is.

What a privilege to be born again. By grace are you saved through faith, and this is not of yourself, it is a gift of G-d. Now Sha'ul had already studied in Jerusalem as a youth, and he knew very well the privilege he had as a Jewish young person to be able to enter the Temple area. For Gentile children did not have his prerogative. There was a sign threatening death on the soreg where the outer court was separated off from where only the Jewish people could enter.

When I was twelve years old, I had not read the book of Ephesians. However, even if it were explained to me I'm sure I wouldn't have been able to understand it. Even now, it is a very deep book that the Holy Spirit has to help one understand. But basically, in this book, Paul (Rav Sha'ul) is meditating on all the barriers or roadblocks there are when we think of approaching the Shechinah (Presence of G-d, which was associated with the Temple, the Beis Hamikdash [House of the Sanctuary]). First there is spiritual death, we were dead in our trespasses and sins and had to be raised up spiritually like Lazarus was physically (Yn 11:43 and also 11:44). When we were dead we were unclean, and uncleanness describes the corrupt "old man" with his deceitful and stubborn, hard heart. These Lazarus grave clothes had to be removed (Eph 4:22-25) and we need the discerning ministry of ministers to keep them off (Eph 4:11-12) and to not be fooled by the schemes of the devil, so that we can keep our inheritance (there is no inheritance for the unclean, Eph 5:5) and march together in a phalanx of unity through the access ("right to enter" Eph 2:18; and also 3:12, gishah, Hebrew, meaning access or approach; tsutrit is the Yiddish word for access). But there are other hindrances. There are the demons watching. They have false doctrine and operate through crafty false teachers. Then there are the firey darts of depression and discouragement and condemnation and despair. But in this one book, Ephesians, Paul lays out G-d's master plan to get you and I access to His Presence. Hallelujah!

Read it through in English here and here and here and here and here and here.

Or read it through in Yiddish and English here and here and here and here and here and here and here and here and here and here and here and here and here and here.

See Isaiah 53:11. (see How To Point).

DO YOU KNOW THE DERECH HASHEM [REQUIRES LITERACY IN HEBREW]?

IF YOU HAVE HIGH SPEED ACCESS, TAKE A MOMENT TO LISTEN TO THIS MP3 FILE BECAUSE THERE IS SOMETHING ABOUT THE ORTHODOX JEWISH BIBLE OF VITAL IMPORTANCE TO YOU THAT THEY ARE NOT TELLING YOU

IF YOU DO NOT HAVE HIGH SPEED ACCESS, TAKE A MOMENT TO READ THE TRANSCRIPT OF THE ABOVE MP3 FILE, BECAUSE THERE IS SOMETHING ABOUT THE ORTHODOX JEWISH BIBLE OF VITAL IMPORTANCE TO YOU THAT THEY ARE NOT TELLING YOU



ARE YOU DEPRESSED [THIS IS IN ENGLISH]?Let's stop here and test your Moshiach literacy.
See the ORTHODOX JEWISH BIBLE.
---