CLICK ON THE BIG ORTHODOX JEWISH COVER AND START TURNING THE OJB PAGES, USING THE ENABLE FULL SCREEN, ZOOM + AND - FUNCTION, AND THE ESC AS YOU TURN THE PAGES WITH YOUR MOUSE OR PRINT THEM OUT AS DESIRED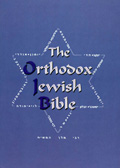 "The Holy One, blessed be He, created the world by the 'Ma'amar'" (Mek., Beshallah, 10, cf Psalm 33:6) and Chayei Olam has appeared in the מתגשם ממרא MOSHIACH SO CLICK HERE TO BUY THE ORTHODOX JEWISH BIBLE E-BOOK FOR $4.95 OR FOR FREE SHIPPING IN THE U.S. GET THE 1,232 PAGE PAPERBACKYeshua not Mendel is Moshiach!
OR BUY PAPERBACK FROM AMAZON.COM
TAKE 3 MIN, FIND OUT WHAT THIS WEBSITE IS ALL ABOUT
ORTHODOX JEWISH BIBLE
(Google Chrome Browser recommended) meshichistyid.org Meshichist Yid
Download your free Bible and study with us free at our online Yeshiva
myOJBa
myOJBb
myOJBc
myOJBd
myOJBe
myOJBf
Qty: Price: $29.95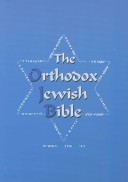 EMAIL DR GOBLE (CELL 646 460 5971) DO SEARCHES OF THIS VAST WEBSITE AS WELL AS CONCORDANCE-LIKE SEARCH QUERIES OF THE ORTHODOX JEWISH BIBLE USING YOUR GOOGLE OJB "STRONG'S CONCORDANCE"

Example: type below in the AFII Google Search Portal "HaAlmah"





.

(This message builds on the Genesis 3:15 Torah teaching, confirmed in Rabbinic exegesis, see

זרע זה מלך המשיח מדרש רבה כג ה

that Moshiach, through his sufferings, will win our victory over Satan.)



BEFORE YOU GO ANY FURTHER, BE LIKE NA'AMAN AND HEAD FOR THE MIKVEH AND GET REAL LEV TAHOR LEVERAGE AGAINST HASATAN IN THE NAME OF HASHEM (ATIK YOMIN) AND THE ZOON FOON DER OYBERSHTER (BAR ENOSH) AND THE RUACH HAKODESH ADONOI ECHAD AND BECOME A MESHICHIST YID. And you don't have to buy the paperback; you can download the searchable e-book version including this and read it on your computer screen free-of-charge (you can also download free-of-charge another book that you can use as a commentary to get you into the Biblical languages and also intensely into each book of the Bible). But if you decide you DO want the paperback which also includes this translation as well as the other 39 books of the Bible, THEN IF YOU DON'T WANT TO USE YOUR CREDIT CARD JUST SEND A CHECK OR MONEY ORDER PAYABLE TO AFII TO GET YOUR PAPERBACK COPY OF THE OJB

LISTEN TO THIS (STREET PREACHING ON BROADWAY IN JEWISH NEW YORK CITY)

CHECK OUT THE HOME PAGE OF ARTISTS FOR ISRAEL INTERNATIONAL MESSIANIC BIBLE SOCIETY

IF YOU WOULD LIKE TO SEE THE TREE OF LIFE (ETZ CHAYIM), MAY WE FIRST SHOW YOU THE TREE OF DEATH?

ARTISTS FOR ISRAEL INTERNATIONAL®

ARE YOU A FALSE PROPHET PROPHESYING IN THE FLESH

"I DIE DAILY"--WHAT DOES THAT MEAN, BECAUSE WE ARE SUPPOSED TO FOLLOW RAV SHAUL AS HE FOLLOWS MOSHIACH?

LET'S COME TO TERMS WITH THE FAITH OF THE FIRST CENTURY

STOP AND QUICKLY VIEW THE NUMBER #1 GOOGLE MESSIANIC VIDEO

PREACHING





DO YOU KNOW THE DERECH HASHEM [REQUIRES LITERACY IN HEBREW]?





DO YOU KNOW THE ONLY SEFER KADOSH THAT TELLS HOW TO HAVE INTIMACY WITH HASHEM [REQUIRES LITERACY IN HEBREW]?





ARE YOU DEPRESSED [THIS IS IN ENGLISH]?



IF YOU HAVE HIGH SPEED ACCESS, TAKE A MOMENT TO LISTEN TO THIS MP3 FILE BECAUSE THERE IS SOMETHING ABOUT THE ORTHODOX JEWISH BIBLE OF VITAL IMPORTANCE TO YOU THAT THEY ARE NOT TELLING YOU

IF YOU DO NOT HAVE HIGH SPEED ACCESS, TAKE A MOMENT TO READ THE TRANSCRIPT OF THE ABOVE MP3 FILE, BECAUSE THERE IS SOMETHING ABOUT THE ORTHODOX JEWISH BIBLE OF VITAL IMPORTANCE TO YOU THAT THEY ARE NOT TELLING YOU


First let's get something clear about erroneous notions of Paul and his founding a new religion, which he didn't. True, the halakhah of his Judaism switched from the f Pharisaic oral law to the Ruach Hakodesh, but his religion was still one of the Judaisms of the time, not a new non-JUdaism Gentile religion.



When we preach for the final time and leave this world, it is our desire that the Spirit of the L-rd will carry us away (1 Kgs. 18:12), even as that preacher Elijah was taken up. But Satan wants to carry us away captive to do his will. Satan wants to rob us of everything (2 Kgs 24:13), even the precious nefesh; Satan wants to drag us off with the spirit of this world, the spirit of whoredoms, the spirit that is demonic; that we be carried about with every wind of doctrine (Eph 4:14), that we be carried away by strange doctrines, even doctrines of demons, that we be carried away unto dumb idols. The minister must be devoted to his wife, sober and immoveable and faithful. Worldly people have eyes full of adultery, but the minister must have sober eyes that only look faithfully toward his spouse (1Ti 3:2). The preacher must treat the women or men in the congregation in all purity as sisters or brothers and see them as the L-rd sees them, that is, as holy and chaste daughters and sons in the L-rd. We are children of the light, whereas the devil works under cover of darkness and underhandedness. In the last days there will be a spirit of inebriation, a spirit of headiness, a spirit of high-mindedness, even an idolatrous spirit of whoredoms, and many will be carried away like clouds that are driven by a demonic tempest. Ministers are warned to be sober and to keep their heads in all circumstances. Propriety, sobriety, modesty in dress and chastity in thought are indispensable for those in whose responsibility is the care of souls. We must live as sober children of light, watchful in prayer, faithful in all things, and we must not be as children of darkness that are spiritually inebriated and carried away with a worldly spirit of dissipation and intemperance.

When we look at Kefa we see him in the Garden of the Kohen HaGadol denying our Moshiach Adoneinu and trying to save his life. We see the terrible spirit of fear in this denial. But then later in Acts chapter 2 Kefa is like a fearless warrior as he preaches in the power of Pentecost (Shavuos). What has happened to him? The Scripture says not to get drunk with wine but be filled with the Holy Spirit. And of course it was forbidden for kohanim to be intoxicated when they were performing their kehunah duties in the Beis HaMikdash, but Kefa was not a kohen doing avodas kodesh service in the court of the kohanim; he was a preacher in the part of the court of the Gentiles called Ulam Shlomo or Solomon's Colonnade. Remember this was a very dangerous place to be. The Temple guards could easily arrest Kefa and he could easily find himself in the same danger our Moshiach was in with the Temple authorities fifty days before at the season of Pesach. Anyone who has ever seen someone drink several glasses of wine because they have a fear of flying and have to board a plane knows that wine takes away fear. An Irish drunk will fear no one's fists in the bar room brawl because of the way his normal fears are anesthetized by alcohol. But the anesthetization of the Ruach Hakodesh is not like that anesthetization of new or sweet wine (Act 2:13). The Ruach Hakodesh had fallen on the Shluchim so that they would be empowered from on High and so that the spirit of fear would be anesthetized by the Spirit of Power and Boldness. This is why some of the people who witnessed Kefa and the Shluchim and the hundred and twenty Pentecostal Messianic Jews on Shavuos thought that they were drunk. Apparently they were staggering like inebriated or anesthetized hospital patients. They were anesthetized by the Ruach Hakodesh and rendered insensitive to the spirit of fear by an anesthesia of the Ruach Hakodesh. They were staggering like people in a drunken state.

Notice that when the Power of the Holy Spirit came on them and they spoke in leshonot chadashot they were hidden in a relatively safe place, the Aliyyah or Upper Room. Kefa could have said, "Let's stay inside here in the Upper Room where it is safe and maybe someone will see the Pentecostal sign outside and come in." No, he did not do that. The believers had to be unafraid about going to the unbelievers because the unbelievers were afraid about going to the believers (Act 5:13). The signs and wonders and boldness and power of Pentecost was not meant for preaching to the choir. This Holy Ghost "new wine" anesthesia they had received was to embolden them to go into the "lion's den" and do street preaching (Act 17:17) in the open air to people who might prove to be very dangerous to them indeed. Rav Shaul, who spoke in leshonot chadashot "more than you all," was himself called to do the same kind of dangerous preaching. Consequently he reports that "no man stood with him, all men forsook him (2Ti 4:16)."

Nevertheless, the L-rd stood with him and delivered him out of the lion's mouth and gave his strength. Pentecost is pressing with all possible effort to touch the only One who can make you clean (Mt 9:21). We seek to be clean vessels filled with the Ruach Hakodesh. This means forsaking all idols and understanding that Moshiach is not one. This means going with the Master into the press of the crowds and following him in the open air as he moves through the multitudes to raise the dead. If we have a carnal or profane or worldly spirit, Moshiach will not let us witness his Messianic ministry for he will use others and put us out. (See Mt 9:24-25.) Beware of the leaven of the Pharisees. They loved money and loved to be called Rabbi and boasted in their learning and in their great teachers and thought that their accredited learning and titles of respect exempted them from this kind of dangerous preaching. But the accreditation of Moshiach's maggidim was that they went everywhere preaching and Pentecostal signs followed the preaching of the word.

The devil wants to hold the truth down in unrighteousness and intimidate any Stephen from speaking the truth in love, but the power of the Ruach Hakodesh is for the purpose of breaking out of this intimidation and suppression so that the truth might be shouted from the rooftops. This is the way we must go to follow Moshiach. Kefa went that way. Rav Shaul went that way. It is a way of holiness and sacrifice and danger. But it is also the way of safety. Any Joshua or any Caleb can face the giants in the land as long as the anointing of the Ruach Hakodesh is on them. When kings go to war (2Sa 11:1) we must make sure we are with them, for any "Bathsheba" can be more dangerous than any giant, as King David discovered. A street preacher may actually be safer in a dangerous neighborhood (Psa 23:5) than anywhere else, just as King David was nowhere safer than when he was on the battlefield dodging enemy arrows. Today we need the old Pentecost, the Pentecost of the Bible, the Pentecost for street preachers, street preachers going into Muslim neighborhoods and Ultra-Orthodox Jewish neighborhoods and other "dangerous" street preaching venues.

Isn't it time to come back to your spiritual home?


PRAY THIS PRAYER AND THEN PRAY THIS PRAYER.





      See the ORTHODOX JEWISH BIBLE.
      SEE YESHUA IN AN AUTHENTIC ORTHODOX JEWISH MAHZOR
      


      

THE ORTHODOX JEWISH BIBLE IS AN ENGLISH VERSION.READ ABOUT MEN THAT ARE MORE 
      FREE AND RICHER THAN BILLIONAIRE BILL GATES.


SEE YESHUA IN AN AUTHENTIC 
      ORTHODOX JEWISH MAHZOR



SEE OUR HEBREW BIBLES
SEE OUR MESSIANIC RUSSIAN SCRIPTURE 
      PAGE
SEE OUR YIDDISH 
      SCRIPTURE PAGE
SEE OUR 
      SPANISH SCRIPTURE PAGE
SEE 
      OUR LADINO SCRIPTURE PAGE
SEE OUR FRENCH SCRIPTURE 
      PAGE
STUDY GREEK WITH 
      US
STUDY HEBREW WITH 
      US
FREE ONLINE 
      CLASSES
ATTEND BIBLE 
      SCHOOL ONLINE
VIEW A MEDIA 
      BIBLE
WHY YOU NEED 
      TO FIND A SPIRITUAL HOME
READ YIDDISH-ENGLISH 
      BIBLE
INTERLINEAR
VISIT THE 
      AFII HOME PAGE

STUDY HEBREW IN A MESSIANIC 
      YESHIVA

STUDY THE 
      LANGUAGE OF THE HELLENISTIC JEWISH SYNAGOGUE WITH US



ACQUIRE 
      FOR YOUR LIBRARY THE ORTHODOX JEWISH BIBLE

OR 
      GET IT HERE

      
---