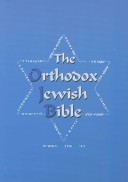 EMAIL DR GOBLE (CELL 646 460 5971) DO SEARCHES OF THIS VAST WEBSITE AS WELL AS CONCORDANCE-LIKE SEARCH QUERIES OF THE ORTHODOX JEWISH BIBLE USING YOUR GOOGLE OJB "STRONG'S CONCORDANCE"

Example: type below in the AFII Google Search Portal "HaAlmah"





.

(This message builds on the Genesis 3:15 Torah teaching, confirmed in Rabbinic exegesis, see

זרע זה מלך המשיח מדרש רבה כג ה

that Moshiach, through his sufferings, will win our victory over Satan.)



BEFORE YOU GO ANY FURTHER, BE LIKE NA'AMAN AND HEAD FOR THE MIKVEH AND GET REAL LEV TAHOR LEVERAGE AGAINST HASATAN IN THE NAME OF HASHEM (ATIK YOMIN) AND THE ZOON FOON DER OYBERSHTER (BAR ENOSH) AND THE RUACH HAKODESH ADONOI ECHAD AND BECOME A MESHICHIST YID. And you don't have to buy the paperback; you can download the searchable e-book version including this and read it on your computer screen free-of-charge (you can also download free-of-charge another book that you can use as a commentary to get you into the Biblical languages and also intensely into each book of the Bible). But if you decide you DO want the paperback which also includes this translation as well as the other 39 books of the Bible, THEN IF YOU DON'T WANT TO USE YOUR CREDIT CARD JUST SEND A CHECK OR MONEY ORDER PAYABLE TO AFII TO GET YOUR PAPERBACK COPY OF THE OJB

CHECK OUT ARTISTS FOR ISRAEL INTERNATIONAL MESSIANIC BIBLE SOCIETY HOME PAGE



These Hebrew letters are the code for building the spiritual nuclear weapon against Satan called the Yiddish New Testament.