IF YOU ARE IN A HURRY LISTEN TO THIS OR WATCH THIS FILM

OR (OY TO THEM!) STUDY JEWISH GREEK!

TAKE A FEW MINUTES TO DOWNLOAD WHAT TOOK THIRTY YEARS TO UPLOAD TO YOU FREE OF CHARGE EVEN IF YOU ARE NOT INVOLVED IN MINISTRY OR OFFICIALLY ENROLLED IN OUR ONLINE SCHOOL---THE FREE DOWNLOAD OF THE FULLY SEARCHABLE COMPLETE ORTHODOX JEWISH BIBLE, A 1232 PAGE STUDY BIBLE THAT INCLUDES THE ORTHODOX JEWISH BRIT CHADASHA NEW COVENANT SCRIPTURES, (WHICH YOU WOULD OTHERWISE HAVE TO PAY FOR AT AMAZON OR BARNES AND NOBLE OR OUR OWN BIBLE BOOKSTORE ONLINE STORE) AS AN ABSOLUTELY POSITIVELY FREE GIFT FROM OUR MOSHIACH WHO IS RICH TOWARD THOSE WHO CALL UPON HIM. THIS IS A LARGE FILE SO BE PATIENT. BUT IF IT DOES NOT START DOWNLOADING IN A REASONABLE LENGTH OF TIME, IT IS ALSO AVAILABLE HERE OR EVEN ALSO HERE SO NO MATTER WHAT THE VOLUME OF TRAFFIC, YOU SHOULD BE ABLE TO GET IT AS FAST AS YOUR MODEM CAN DOWNLOAD IT. ALSO SEE WHAT EVERY ONE OF MOSHIACH'S RABBIS NEEDS TO KNOW ABOUT THE NAME OF MOSHIACH IN AN AUTHENTIC ORTHODOX JEWISH MAHZOR (IF YOU DARE). OR WOULD YOU RATHER NOT DEAL WITH THE TRUTH?

WOULD YOU LIKE A COPY OF THE AUGMENTED THIRD EDITION (JUST PUBLISHED) ORTHODOX JEWISH BIBLE SHIPPED TO YOU IN THE U.S.? Web site telephone (212) 245-4188 cell 646 460 5971 fax 1646-607-0667 Web site email pgoble@gmail.com or phil@philgoble.com MOSHIACH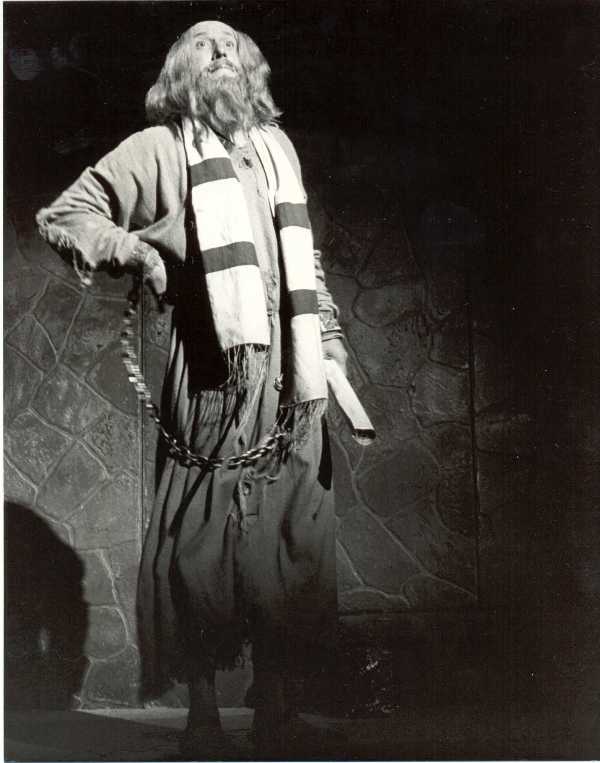 In my heart there is a Shtiebel, a small prayer room.  Small but commodious, stretching
out like Abraham's Ohel into eternity.  There I meditate day and night.
I invite you to look around this Shtiebel of my soul. 
You will see first a raised platform, a bema, and that bema is where
the Baal Tefilah lies face down to daven, among the holy scrolls that are spread
out in the light of the Ner Tamid which hangs over the Aron Kodesh.
One day in this Shtiebel of the heart, I heard a soft rapping at the door. 
I looked at the uprights of the door and saw that the mashkof (lintel)
and the mezuzot had been struck with Dahm (Blood).
I looked at the latch. What would happen if I opened it?  I had been meditating
on the door standing open in heaven.  I was thinking about heaven and the Bar
Enosh coming to the Ancient of Days on the clouds of heaven.  I wanted
the Spirit to lift me up and take me in visions of El Shaddai far above my dark racing
thoughts which are vain.  My eyes examined the Blood on the mashkof (lintel).
I seemed to know that my dark vain thoughts must be constantly expiated by the
Blood of the mashkof, lest the Evil one defile my pnimiyus Shtiebel.  
On the shulchan (table) of that Shtiebel is a menorah which
is a lamp unto my feet and a Sefer Torah which is a light unto my path, that
Hashem Eloheicha might be with me and that my thoughts might be acceptable in
His sight.
Again, I heard a soft rapping at the door.  I knew whoever knocked was standing
behind the kotel (wall).  And I looked, and, hinei, the Kavod Hashem filled the Shtiebel.
The door was locked.  But I sensed my soul under scrutiny.    
Again I heard the soft rapping at the door. 
In my heart there is a Shtiebel, a small prayer room.  Small but commodious, stretching
out like Abraham's Ohel into eternity. 
From that vantage point there is another Comforter, the Ruach Hakodesh.
And also the Bar Enosh and the Ancient of Days.  Shloshah (Three).
Abraham looked out the entrance of his Ohel and saw Shloshah (Three).
Yet His Name is Echad. 
But when the door opened, there was only a Lamb.  The Lamb was standing.  It had the appearance of
having been slaughtered.  Its throat was cut and the bloody mortal wound was a sign
that the desolating plague had skipped or passed over my door.
Then I heard the Voice. 
"If anyone will invite me to come in, I will come in." 
In the darkness of my nefesh, I reached for the Ohr HaOlam that was shining.
His glance fell on the Sefer Torah like a laser beam, lighting every Hebrew
Letter and every firey place which speaks of him in every Word. 
As far as this Shtiebel is concerned and also my dark thoughts,
things are rising brighter now since Moshiach has entered the shul of my heart.
MOSHIACH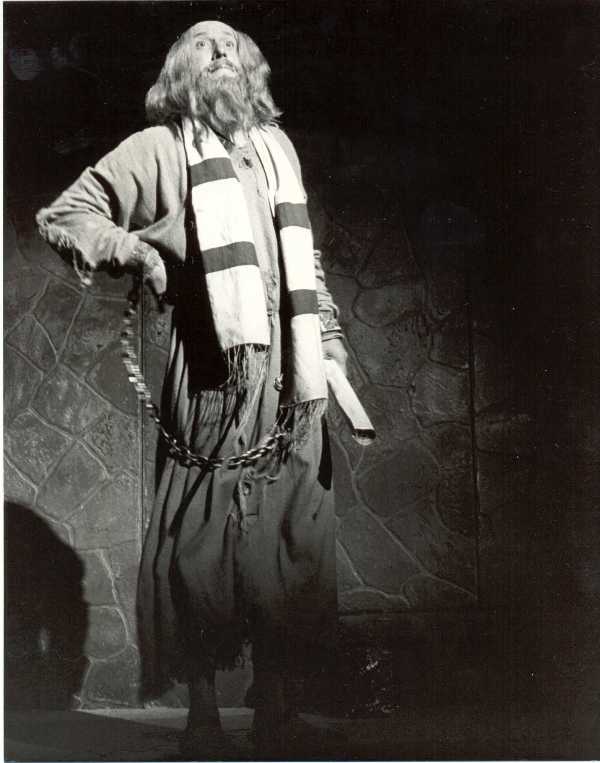 The Artists For Israel Bible Society was founded in 1981 "to use media of all kinds" to promote the Jewish Scriptures for the benefit of all.

The first item on the agenda of the new not-for-profit organization was to create a media Bible. "The Rabbi From Tarsus" was presented as a mono-drama in which the Shliach Shaul in his prison cell remembers his encounter with the martyr Stephen. This sets up Stephen's speech before the Sanhedrin, which recapitulates the story of the Tanakh. Thus with one actor and one set, nearly the entire Bible could be presented on stage and on film, which over the next two decades came to pass in Israel, Australia, Africa, Europe, America and all over the world with various actors and film crews.

The task of translating and publishing and distributing printed Bibles, as opposed to the above media Bible, also unfolded in the same time period.

Dr Phillip Goble, a professional actor with a doctorate and the graduate school mentoring of Dr Donald McGavran, left his home in Beverly Hills, California, and his studies in Pasadena, and eventually made his way to New York City, where he set up an office in 1979, and where he set about founding the AFII not-for-profit organization.

After The Orthodox Jewish Brit Chadasha was published in 1996, work became to turn this translation into the Hebrew, Yiddish, Spanish, Ladino, Russian, and French versions.

The Entire Bible was published in 2002.

OY TO THEM! JEWISH GREEK IN A FIRST CENTURY HELLENISTIC SYNAGOGUE! (AND OY TO YOU IF YOU DO NOT DESPISE YOUR CORRUPT HUMAN NATURE IN A DEVILISH PRAYERLESS NON-BORNAGAIN WORLD

DOWNLOAD FREE OF CHARGE THE FULLY SEARCHABLE COMPLETE ORTHODOX JEWISH BIBLE (WITH A CONCORDANCE-LIKE PDF SEARCH FEATURE) WHICH YOU WOULD OTHERWISE HAVE TO PAY FOR AT AMAZON OR BARNES AND NOBLE AS A GIFT FROM OUR MOSHIACH WHO IS RICH TOWARD THOSE WHO CALL UPON HIM. THIS IS A LARGE FILE SO BE PATIENT. BUT IF IT DOES NOT START DOWNLOADING IN A REASONABLE LENGTH OF TIME, IT IS ALSO AVAILABLE HERE OR EVEN ALSO HERE SO NO MATTER WHAT THE VOLUME OF TRAFFIC, YOU SHOULD BE ABLE TO GET IT AS FAST AS YOUR MODEM CAN DOWNLOAD IT. NOW GIVE US FEEDBACK SO SEE YOU ON FACEBOOK

 



POSTAL DELIVERY SEND MAIL TO: AFII PO Box 2056 New York NEW YORK 10163 U.S.A. WELCOME! SEND ANY OFFERING PAYABLE TO AFII (U.S. CURRENCY ONLY) IN EXCESS OF OUR COST FROM THE BOOK BINDERY (THEY CHARGE AFII $34.00 PER 1,232 PAGE BIBLE) AND WE WILL SEND YOU (INCLUDE YOUR SHIPPING ADDRESS, WE WILL PAY THE SHIPPING CHARGES) THE ORTHODOX JEWISH BIBLE (ENGLISH VERSION).

TAKE ANOTHER LOOK AT YOUR BIBLE. AFII is a major world outreach agency with a cinema media Bible, a Messianic Bible Society featuring THE ORTHODOX JEWISH BIBLE in many languages, an online advanced Biblical Studies Program, ministry to Muslims, and a Messianic Yeshiva, as well as a free e-library of seminal books in these fields.

WATCH REALITY TV TV HERE AND HERE AND HERE AND HERE AND VISIT OUR YOUTUBE CHANNEL OR LISTEN TO SONGS FOR THE TRIBES MP3 FOR YOUR IPOD
MOSHIACH