CLICK ON THE BIG ORTHODOX JEWISH COVER AND START TURNING THE OJB PAGES, USING THE ENABLE FULL SCREEN, ZOOM + AND - FUNCTION, AND THE ESC AS YOU TURN THE PAGES WITH YOUR MOUSE OR PRINT THEM OUT AS DESIRED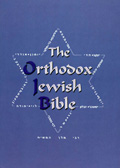 "The Holy One, blessed be He, created the world by the 'Ma'amar'" (Mek., Beshallah, 10, cf Psalm 33:6) and Chayei Olam has appeared in the מתגשם ממרא MOSHIACH SO CLICK HERE TO BUY THE ORTHODOX JEWISH BIBLE E-BOOK FOR $4.95 OR FOR FREE SHIPPING IN THE U.S. GET THE 1,232 PAGE PAPERBACKYeshua not Mendel is Moshiach! CHECK OUT THE HOME PAGE OF ARTISTS FOR ISRAEL INTERNATIONAL MESSIANIC BIBLE SOCIETY

Want THE ORTHODOX JEWISH BIBLE on CD-ROM? Want a copy of THE RABBI FROM TARSUS in English with Hebrew subtitles on DVD? Send a donation of at least (U.S.)$40 with your Name and shipping address. Or use your credit card and donate via PayPal.
MAKE A DONATION with your credit card that is PayPal secure
OR, IF YOU PREFER NOT TO USE YOUR CREDIT CARD, THEN SEND A CHECK OR MONEY ORDER payable in US Dollars to Artists For Israel International P.O. Box 2056 New York New York 10163 U.S.A. along with your clearly printed shipping address and we will send you an appreciation gift of the Orthodox Jewish Bible on CD-ROM and The Rabbi From Tarsus DVD.
Our email is PEGoble@aol.com
IF YOU HAVE HIGH SPEED ACCESS, TAKE A MOMENT TO LISTEN TO THIS MP3 FILE BECAUSE THERE IS SOMETHING ABOUT THE ORTHODOX JEWISH BIBLE OF VITAL IMPORTANCE TO YOU THAT THEY ARE NOT TELLING YOU

IF YOU DO NOT HAVE HIGH SPEED ACCESS, TAKE A MOMENT TO READ THE TRANSCRIPT OF THE ABOVE MP3 FILE, BECAUSE THERE IS SOMETHING ABOUT THE ORTHODOX JEWISH BIBLE OF VITAL IMPORTANCE TO YOU THAT THEY ARE NOT TELLING YOU


Or ORDER YOUR BIBLE FROM BARNES AND NOBLE
Or ORDER YOUR BIBLE FROM AMAZON.COM