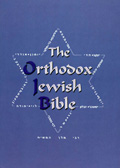 FOR FREE SHIPPING IN THE U.S. GET THE 1,232 PAGE PAPERBACK
DOWNLOAD FREE THE ORTHODOX JEWISH BIBLE E-BOOK FOR YOUR FREE EBOOK READER DOWNLOADABLE HERE!AND ALSO STUDY THE ORTHODOX JEWISH BIBLE ONLINE OR DOWNLOAD THE ORTHODOX JEWISH BIBLE FOR YOUR MOBILE DEVICE

MAGGID (PREACHER)!!! WANT TO STUDY AT GLOBAL UNIVERSITY STUDY CENTER #990001739 AFI INSTITUTE?

CHECK OUT ARTISTS FOR ISRAEL INTERNATIONAL MESSIANIC BIBLE SOCIETY HOME PAGE

LET'S COME TO TERMS WITH THE FAITH OF THE FIRST CENTURY

Achan thought he could have a little darkness (Josh 7:1) and Achan thought he could hide his little darkness from Yehoshua or Yeshua Ben Nun (Neh 8:17), but he was wrong (Josh 7:19). See on Moshiach's Bet Din and our all too quickly approaching arraignment before Yehoshua/Yeshua, for even believers will have to stand before the Bema of Moshiach and give account.